Psychological Intervention
In the Adult ADHD service, you may be referred to a Senior Psychologist.
All psychologists in the HSE Adult ADHD services have extensive expertise in the area of mental health and have a specialist skill to assess and provide evidence-based treatments.
Why might a Psychologist help?

Many adults who have ADHD have experience chronic invalidation throughout their lives:

It may be that they were told they needed to focus or apply themselves more;
They may have been punished for undiagnosed ADHD traits;
They may not have been believed when they started to believe they have ADHD or when they disclose a diagnosis.

As a result, many of us who have adult ADHD can be very self-punishing, as we feel we don't deserve kindness or gentleness from ourselves.
The way we can respond to our struggles can impact our wellbeing.
Many adults who have ADHD will experience low mood, anxiety, challenges with regulating their emotions, stresses in their relationship, poor sleep, and low self-acceptance. Often, these are what significantly impact on our quality of life on a day-to-day basis.

The Psychologist in the Adult ADHD service is there to support you in learning to respond and cope in new ways. This may be offered as individual sessions but most are offered as group sessions, and patients have found this to be helpful.
The Psychologist will draw on different psychological modules to work with you. These will include:

Cognitive Behavioural Therapy (CBT);
Dialectical Behavioural Therapy (DBT);
Acceptance and Commitment Therapy (ACT);
Compassion-Focused Therapy (CFT);
Mindfulness-based Approaches.

A group approach has been shown to be particularly useful.
Psychological interventions have been shown to help adults who have ADHD understand and accept their ADHD brains. The Psychological can also work with you to develop strategies to cope with difficulties associated with ADHD. These can include: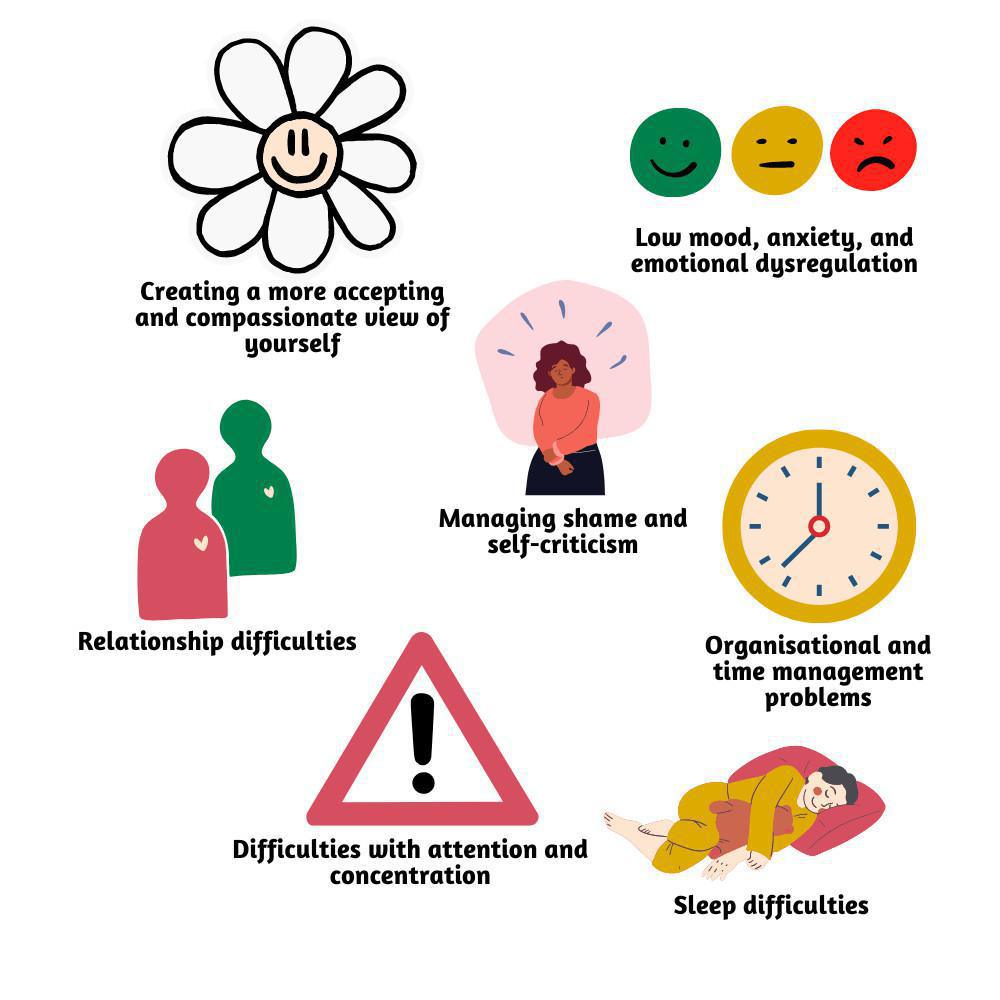 creating a more compassionate and accepting view of yourself
low mood, anxiety and emotional dysregulation
managing shame and self-criticism
relationship difficulties
organisational and time management problems
difficulties with attention and concentration
sleep difficulties
Psychologists will also be very keen to highlight your strengths and encourage you to develop these further.
When engaged in a psychological intervention, the Psychologist may ask you to consider different things, such as how you think in situations and how you behave. They may ask you to describe how you go about everyday things that you find difficult. The Psychologist can help you to find ways to adapt and reshape your thinking, your behaviour, or the situation itself. This can lead to improvements in your mood, relationships, or daily functioning.
The Psychologist may also work with your partner or a family member to provide support if you feel this would be beneficial.
As you can see, there are multiple ways a psychologist can help and various treatments that can be offered for ADHD in the service.